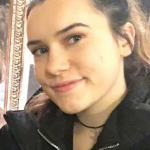 Why a nurture room?
Nurture rooms provide a comfortable environment, by where the child feels safe and relaxed. When a child feels more relaxed and less like they are in therapy it relieves a lot of pressure that may be holding them back. This is one of the main reasons we stepped away from a clinical environment. The primary aim is to improve the emotional wellbeing of children and young people who are struggling. It is important for a child or young person to receive help in order to grow and maximise their potential. We felt that, after extensive research, nurture rooms would enable us to achieve our missions and values more so than a clinical environment. 
The success of nurture rooms
Many studies have found that the use of nurture rooms have improved children's social, emotional and mental health needs that they may have been experiencing. It also shows improvement in areas such as pupils' self-management, social skills, behaviours, and self awareness.
What to include;
Below, I have included a list of things that we purchased, for our nurture room. All of these items are budget friendly.
Creating a relaxing environment
First of all, a sofa or comfy chair is essential for providing a nice, comfy, relaxed space for the child to relax. You can use any size or shape of sofa, however, make sure that there is enough room for everyone to sit down and also enough space for the child to have their own space and not feel suffocated.
Bean bags are common in nurture rooms. A smaller one for a seated area to chill, and a larger one, if you have space, which the child can crash on are useful to have. Having different areas where the child can relax reinforces the idea that the room is a comfortable and safe environment.
A small coffee table, depending on the space you have it can either be a small one that can be moved easily or one that stays, this is a good place to put drinks, food, etc. To maximise storage space try to find one with storage space included underneath.
Creating a working environment
A desk, where the child can work, separate from the fun play area, so the child eventually becomes to associate this area with work. The desk that we chose can change in height to suit your child's growing needs to increase cost-effectiveness and accessibility.
A chair for the desk, we used both a small one; and a larger sized one;  this was to suit the different height requirements of our clients.
A noticeboard to showcase the child's work and progression, this allows for reflection on progression.
A few extra bits
A bright and fun bookcase, using bright colours is a good way to attract the child to something so that they may deem boring before sessions.
A mirror, which is important for both self image and speech therapy, one that can lean against a wall, and turn around to reduce distractions.
Storage space, enough so all toys and anything that could distract the child from working is able to be put out of sight to maximise concentration.
We included a webcam for when we do observations or recorded assessments.
Hooks to hang the chairs on, this is to create more space, the desk and chair are easy to move to one side to maximise play space.
Hooks for coats, this adds to the homely feel.
We also used 'no more nails' to stick the hooks to the wall. Any posters to the wall can be easily removed/ changed as we receive clients of different ages and genders etc.
A roll away whiteboard, useful for working on, and is easily wipeable, for the reason that you can put this away and therefore doesn't require any extra fixings. It can also attach to any surface.
Plants for the window, to create a more comfortable and chilled out environment.
Furthermore, to add to the relaxed atmosphere we included a few posters on the wall, both big and small; posters are available from almost any shop. 
To assess how everything would fit into the room I used floorplanner.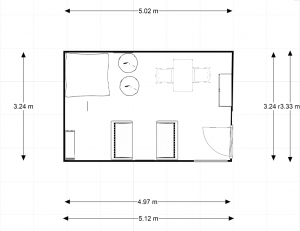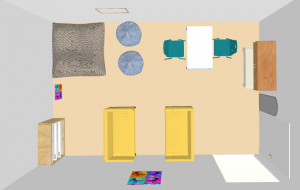 Before decorating began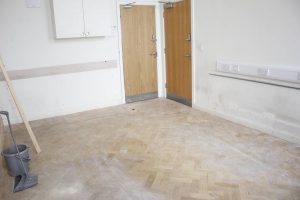 Setting up the nurture room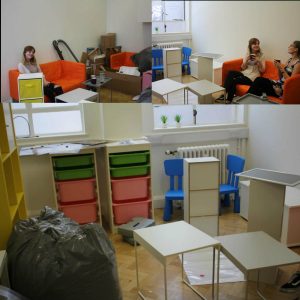 Our completed nurture room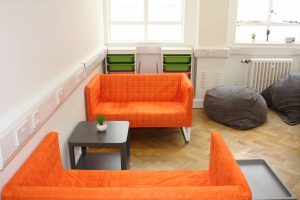 Why is stepping away from a clinical environment best? Because Psychology is constantly evolving and adapting with time, we now know that  nurture rooms provide a more comfortable, relaxed environment for those that need it.
Finally, our nurture rooms are all officially complete and ready to use. If you have taken inspiration from our nurture rooms we would love to see it, or even your own ideas. Share it with us via our social media accounts. Twitter, Facebook and Instagram.
For a list of services that we provide, conditions that we support and any other information about HSR Psychology that you may require visit our website.