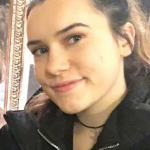 An introduction to therapy rooms
The idea behind creating a therapy room, instead of your traditional clinical room, is that the individual feels relaxed and comfortable in the environment, and less like they're are talking to a psychologist in a clinic. They should then be more open to talk, and hopefully, progress quicker.
We decided to create a therapy room for teenagers and young people, instead of your average clinical room. Why? Take a 23 year-old with anxiety: clinical furniture such as the bed, and other stereotypical furniture you'd expect to see in a hospital, will only make them feel more anxious. A person who has been in and out of appointments their whole life doesn't want to be reminded of this. So, our therapy rooms are a fresh start for many children and young people.
When deciding what to buy and where to put everything, we used floorplanner to help us to visualise the rooms.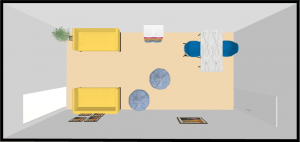 What to buy;
Below is a list of all the things we thought was necessary to include in a therapy room. All budget-friendly therefore it can be replicated by a wider audience.
Items for relaxation
Sofas, these create a comfortable, relaxed space for the child. The sofa can be of any size or shape. Ensure there is enough room for everyone to sit down, and enough room for the child to have their own space.
A coffee table isn't essential, but is useful for when relaxing with a drink.
Items for productivity
A desk, so that the child has a separate space for working, away from the fun area of the room, so they learn that when they are at the desk it is time for them to concentrate.
A desk chair, preferably two, so that you and the child both have space to sit down, opposite each other, for when you need to aid with their work.
Lights; if the room is dim, or poorly lit, we suggest buying bright lights, this wakes people up, and keeps up concentration.
Extras
Storage space, this can be any shape or size. 
A4 and A1 posters, purchased from almost anywhere, this adds to the relaxed feel, and takes away from the clinical white walls.
A fake, or real plant – this is not essential, but we thought that it would add to the comfortable environment we were trying to create.
Before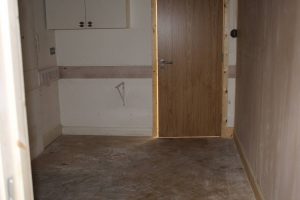 During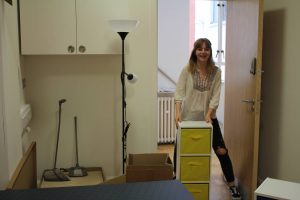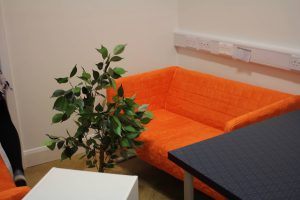 After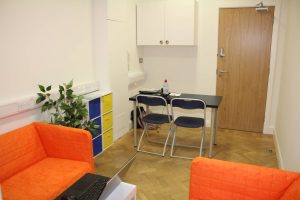 As you can see, our therapy room is now warm and inviting to support therapeutic interventions in clinic, without a clinical feel.
To see if the services we offer are what you're looking for, contact us. Additionally, if you have followed this guide and created one of your own, please share it with us on twitter, facebook or instagram. We would be so happy to see what you have done.